Flashlight rechargeable 960Lumens-uses 1 x 18650 battery-abattery max 150 h to 14 Lumens-scope 200 m-waterproof up to 2 m-IPX-8.
Description
The Fenix UC35 is a rechargeable flashlight via USB a high-powered 960 Lumens supplied by a battery 18650-2 CR123 batteries. His side button offers a fast mode selection while the rear button provides momentary power maximum ignition. The flashlight has 5 light modes + strobe mode, it is ideal for daily use and professional use.
Operating mode:
ON / OFF:
Press the back button to turn on / off the flashlight.
Do half a pressure for the momentary switch, when you let go, the flashlight will turn off.
Mode selection:
When the flashlight is on, press the side button cyclically through the different modes: Turbo, ECO, weak, medium and strong.
Strobe:
Hold side button more than one second to enter the strobe mode.
A simple press of the side button and you will return to the last mode used before the strobe.
Smart memory circuit:
The flashlight stores the last used brightness level. However, it does not retain the strobe mode.
The next time you turn on your flashlight, it will light directly to the last power used.
Turbo mode:
In the Turbo mode, the flashlight accumulates a lot of heat, and therefore to protect the rechargeable LED tactical flashlights from overheating and increased the life expectancy of the battery, the flashlight will pass in the lower mode after 5 minutes of use in Turbo mode.
If you still need the Turbo mode any longer, turn it back on.
Fort mode:
To protect the flashlight, Fort mode will work up to 30 minutes before automatically switching
Way.
If you still need mode hard any longer, turn it back on.
Low battery / prevention function:
When the voltage is at a minimum, the flashlight will pass in a lower brightness mode, once reached ECO mode, the flashlight will Flash 3 times in less than one second every 5 minutes to tell you to recharge the flashlight or replace the battery.
Loading of the flashlight:
1. press on the back button to turn off the flashlight. Connect the USB cable that is located under the rubber dust cover.
2. press on the back button to start loading. The load indicator now turns red to indicate that the load is on the way. The indicator will change to solid green when the flashlight is fully charged. It takes 5 hours for a full charge with a 3200 mAh battery.
3. when charging is completed, press the back button to cut the charging procedure and disconnect the USB cable. Don't forget to close the dust cover.
Note: Thanks to recharge at least once every 4 months to keep optimal performance.
Features
LED Cree XM-L2 U2 with a service life of 50,000 hours
5 light modes regulated + Strobe
960 ANSI lumens (1 h 30) brought 200 meters
480 lumens ANSI (2 h 40)
180 lumens ANSI (9: 00)
50 ANSI lumens (38 h)
14 ANSI lumens (150 h)
Intensity: 10 000 cd
Battery: 1 18650 battery or 2 CR123 batteries
Made of aircraft quality aluminum alloy
Finish: Scratch-resistant Type III hard anodizing
Dimension: 150mm (length) x 25.4 mm (diameter of the head and body)
Weight: 99g (without battery)
Waterproof to IPX-8 standard (2 meters)
Warranty 2 years
Box content
Flashlight Fenix UC35
Battery 18650 3200 mAh ref: ARB-L2P
Belt clip
Holster
Hand strap
2 spare o-rings
USB cable for charging
Back button of replacement rubber
User manual
Gallery
Fenix UC35
Source: www.sportsmanswarehouse.com
Fenix Flashlight UC35 Rechargeable LED Flashlight UC35L2BK B&H
Source: www.bhphotovideo.com
Fenix UC35
Source: www.sportsmanswarehouse.com
Fenix UC35 Micro-USB Rechargeable Cree XM-L2 LED …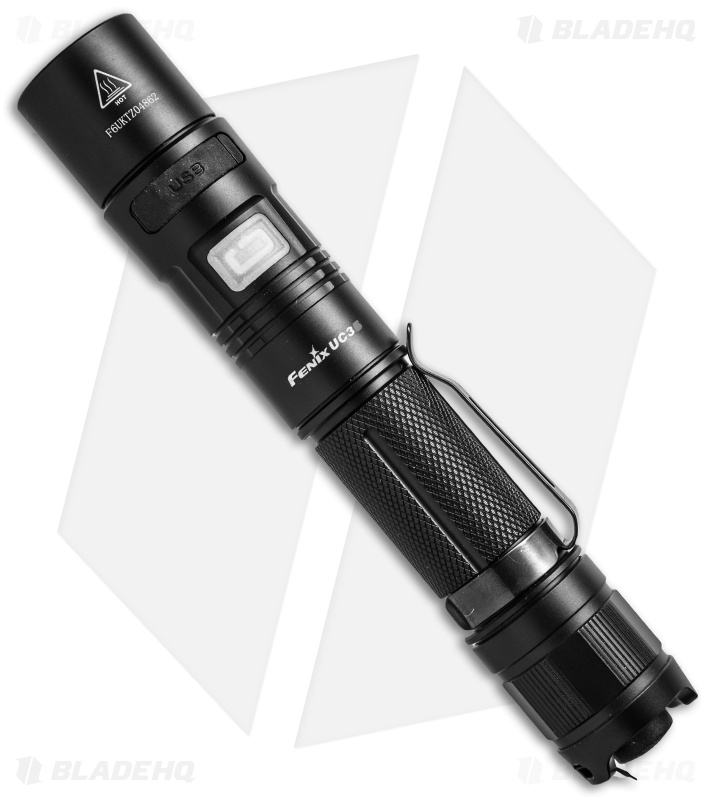 Source: www.bladehq.com
Fenix UC35 Rechargeable LED Flashlight w/ 3200mAh 18650 …
Source: www.longhorntactical.com
Fenix UC35 USB Rechargeable LED Flashlight 960 Lumens Cree …
Source: www.zapals.com
Fenix UC35 Rechargeable LED Flashlight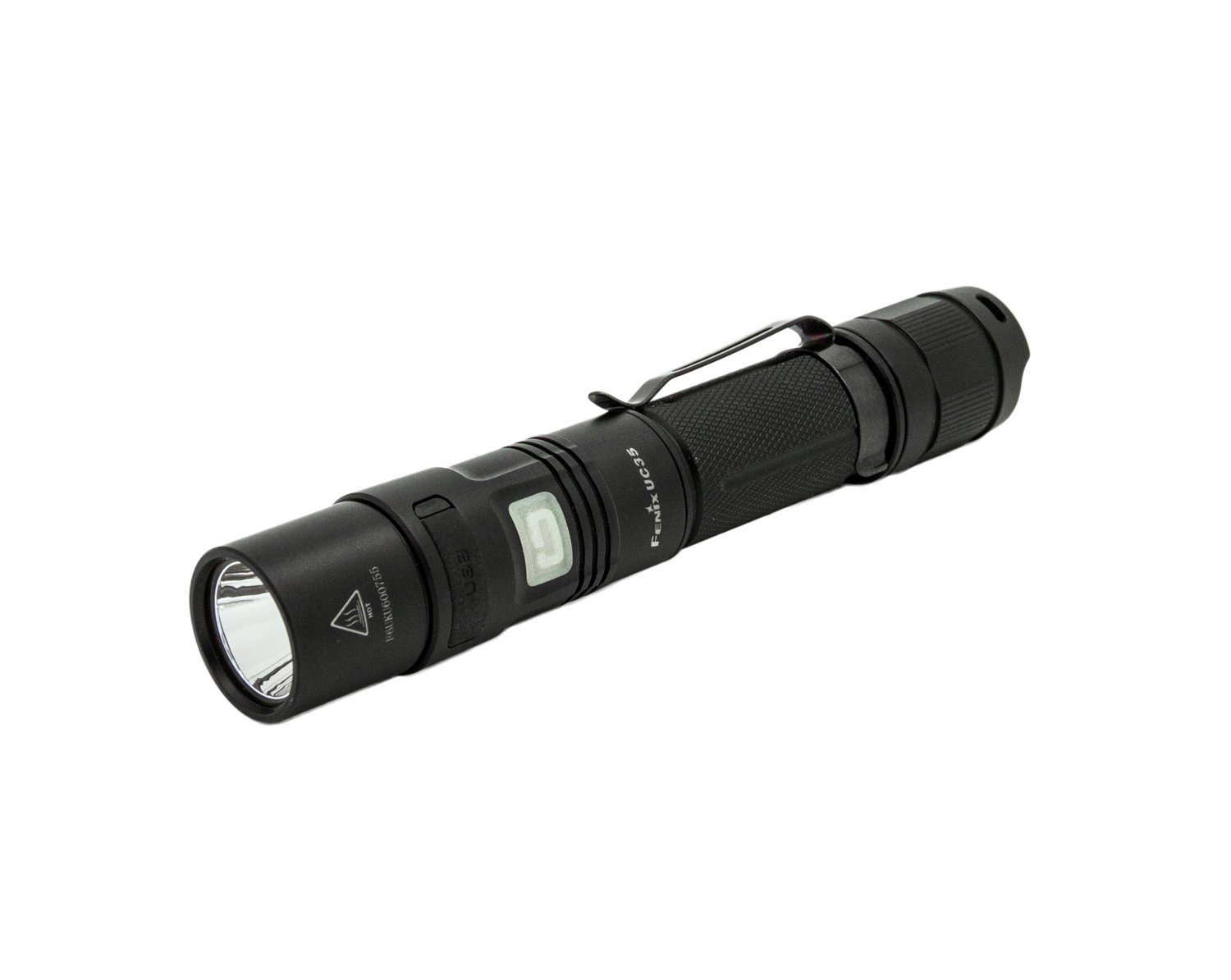 Source: www.academy.com
Fenix UC35 USB Rechargeable Tactical Flashlight
Source: prepperology.net
Fenix UC35 1000 Lumen Rechargeable Tactical Flashlight
Source: www.harrysarmysurplus.net
Fenix UC35 USB Rechargeable Flashlight
Source: www.alatselam.com
Fenix UC35 USB Rechargeable Tactical Flashlight
Source: www.optiongray.com
Fenix Lighting UC35 960 Lumen USB Rechargeable Flashlight
Source: www.lapolicegear.com
Fenix UC35 Upgrade
Source: besttacticalflashlights.org
Fenix UC35 960 Lumen PD35 Rechargeable LED Flashlight …
Source: www.theactiveelement.com
Fenix UC35 V2.0 LED Rechargeable Flashlight
Source: www.fenix-store.com
Fenix UC35 Cree XM-L2 USB Rechargeable ARB-L2P 960lm LED …
Source: www.hkequipment.net
Fenix UC35 Rechargeable Flashlight at REI
Source: www.rei.com
BUNDLE: Fenix UC35 960 Lumens PD35 Rechargeable CREE XM-L2 …
Source: www.importitall.co.za
Fenix UC35 960 Lumen PD35 Rechargeable LED Flashlight …
Source: www.theactiveelement.com
Fenix UC35 960 Lumen PD35 Rechargeable LED Flashlight …
Source: www.theactiveelement.com